More Aztec Camera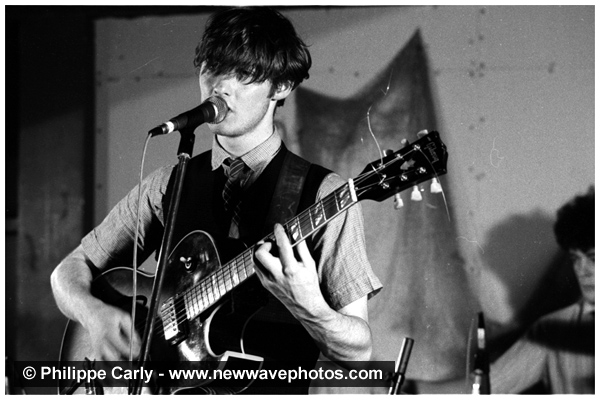 Knife (1984)
Roundly trashed upon its fall 1984 release -- many reviewers took the album almost as a personal insult --
Knife
is nowhere near as terrible an album as it seemed at the time. One must remember the circumstances, however: 1983's
High Land Hard Rain
, as well as the preceding singles on the legendary Postcard and Les Disques du Crepuscule labels, had presented
Roddy Frame
and crew as the jazz and folk-inflected, acoustic guitar-slinging saviors of pop music from the synth-driven hordes.
Knife
, on the other hand, was (yikes!) produced by
Dire Straits
'
Mark Knopfler
, who (gasp!) brought in a pair of keyboard players to color
Frame
's (shriek!) newly R&B-flavored pop songs. In retrospect, though,
Knife
is, while deeply flawed, a thoughtful and largely likable set of tunes. There are three killer singles, the danceable "Still on Fire," "Just Like the USA" (which features a jiggly guitar riff that almost turns into the hook from
the Jackson 5
's "I Want You Back" in a few spots), and the sublime "All I Need Is Everything," a lovely, yearning tune based on a hypnotic guitar riff and featuring possibly the best chorus of
Frame
's career. Slightly below that fine triumvirate are "The Birth of the True" and the stirring "Backwards and Forwards," which both recall the pretty but slightly strident ballads of
Frame
's early career, and the peppier "Head Is Happy (Heart's Insane)," all of which are perfectly respectable tunes. Then, though, comes the bland, forgettable "The Back Door to Heaven," and the truly horrible title track, which stretches out too few musical or lyrical ideas over an endless, nearly ten-minute track that seems to be going for a
Dire Straits
-like ambience but merely sounds noodly and insipid. With a more sympathetic producer and a less obvious method of filler (why not record new versions of those early singles?),
Knife
would have made it past the cultural arbiters. As it was, Aztec Camera never really recovered.
Tracklisting
1 Still on Fire (4:01)
2 Just Like the USA (4:03)
3 Head Is Happy (Heart's Insane) (4:14)
4 Back Door to Heaven (5:22)
5 All I Need Is Everything (5:50)
6 Backwards and Forwards (4:12)
7 Birth of the True (2:41)
8 Knife (9:04)
Download Link
http://www.filesend.net/download.php?f=195643d4400b10322dc7186e4da3e529
Love (1987)



Roddy Frame
dispensed with the previous members of Aztec Camera and turned to a group of American session musicians and high-powered producers (
Russ Titelman
,
Tommy LiPuma
) for his third full-length album, on which he also abandoned his singer/songwriter, folk-rock approach in favor of an American R&B style. It's a distinct step down from the ingenuity of his first couple of records, and was met with indifference in the U.S., which seemed to be its intended target. In the U.K., the album belatedly took off after its second single, "Somewhere In My Heart," went to #3, and became Aztec Camera's only Top Ten LP. (Other U.K. chart singles were "How Men Are" [#25] and "Working In A Goldmine" [#31].)
Tracklisting.
1 Deep and Wide and Tall (4:06)
2 How Men Are (3:41)
3 Everybody Is a Number One (3:30)
4 More Than a Law (4:43)
5 Somewhere in My Heart (4:02)
6 Working in a Goldmine (5:44)
7 One and One (4:14)
8 Paradise (4:34)
9 Killermont Street (3:20)
Download link:
http://rapidshare.com/files/4974027/Aztec_Camera__1987__love.rar.html
Stray (1990)



A welcome comeback after the flaccid dance-pop of 1987's insipid
Love
,
Stray
is among
Roddy Frame
's most assured and diverse collections of songs. Unlike previous Aztec Camera albums, there's not one unifying style to the disc, and the variety makes
Stray
one of
Frame
's better collections. From the assured rocking pop of the singles "The Crying Scene" (the closest thing Aztec Camera ever got to an American hit single) and "Good Morning Britain" (a rousing collaboration with
Mick Jones
of
the Clash
and
Big Audio Dynamite
) to the cool,
Chet Baker
-ish cocktail jazz of "Over My Head,"
Frame
covers the waterfront, but it's the quartet of songs that constitutes the second half of the album that impress the most. These four songs, "How It Is," "The Gentle Kind," "Notting Hill Blues," and the tender acoustic closer "Song For A Friend," are a loosely connected cycle mingling folk, soul, and pop in varying proportions. Starting with a bitterly cynical denunciation of modern society, the four songs move through sadness and resignation to a hopeful, sweet closure. Shorn of the pretentiousness that mars some of
Frame
's earlier lyrics -- written, to be fair, while he was still in his mid-teens -- the lyrics on
Stray
are the first that stand up to
Frame
's remarkable melodic sense. The simple, low-key production by
Frame
and
Eric Calvi
also retreats from the unfortunate excesses of both
Love
and its misbegotten
Mark Knopfler
-produced predecessor,
Knife
. With the exception of Aztec Camera's 1983 debut
High Land Hard Rain
, this is
Roddy Frame
's best album.
Tracklisting
1 Stray (5:33)
2 Crying Scene (3:34)
3 Get Outa London (3:41)
4 Over My Head (5:53)
5 Good Morning Britain (4:02)
6 How It Is (4:00)
7 Gentle Kind (5:32)
8 Notting Hill Blues (6:41)
9 Song for a Friend (2:28)
Download link
http://rapidshare.com/files/4986506/Aztec_Camera__1990__stray.rar.html
Dreamland (1993)



Whoever got the idea of putting erstwhile lo-tech pop hero
Roddy Frame
in the studio with the legendarily hi-tech keyboardist/ composer/ producer
Ryuichi Sakamoto
ought to at least get credit for thinking outside the box. And if the experiment wasn't an unqualified success, well, that's what usually happens when you think outside the box.
Dreamland
is far from a failure; by this point in his career,
Frame
's pop craft is too instinctive to permit that. But
Sakamoto
does occasionally threaten to overwhelm the songs with his patented super-smooth production and studio fripperies (those strings! those backing vocals!), and in a few cases the songs themselves aren't structurally capable of supporting all that added weight. Several tracks, in particular the rather silly "Spanish Horses," will leave you thinking "Gosh, that was pretty. How did it go again?" And "Safe in Sorrow," a gorgeous pop/soul ballad, feels like it wants to go twice as fast as it does, but can't. All that said, there are some great moments here, including the aching "Let Your Love Decide" and the slightly creepy "Valium Summer"; fans of the Camera should like this album just fine.
Tracklisting

1 Birds (4:56)
2 Safe in Sorrow (4:56)
3 Black Lucia (4:00)
4 Let Your Love Decide (5:03)
5 Spanish Horses (4:34)
6 Dream Sweet Dreams (3:26)
7 Pianos and Clocks (4:53)
8 Sister Ann (5:13)
9 Vertigo (4:54)
10 Valium Summer (5:53)
11 Belle of the Ball (3:24)

Download link

http://rapidshare.com/files/4692002/Aztec_Camera__1993__dreamland.rar.html



Live at Ronnie Scotts (Acoustic)





Tracklisting
1 Birth of the True
2 Song for a Friend
3 Killermont Street
4 How Men Are
5 Sister Ann
6 Good Morning Britain
7 Mattress of Wire
8 Let Your Love Decide
9 Orchid Girl
10 Stray
11 Sunset
12 The Bugle Sound Again
13 Dolphins
14 Oblivious
15 Black Lucia

Download link

http://www.megaupload.com/?d=RIQ3KLDE


Greetings.